Everyone has a different look and feel when it comes to their wedding and what they would like their photos to look like. Feel free to browse through the options below, but know that these can absolutely be used for other occasions too. Some venues have only a few spaces to take photos, so these might be great options to get the photos you are looking for. Creekside also has 8-acres of land around our property and has tons of options for photos onsite. If you are looking to travel off of the property to get photos, we recommend going to these locations around the same time you will have your photos done to scout and see what location best fits you and your fiance's personality! 
1. Palmer Park
Palmer Park has great open spaces with lots of greenery and trees. Although these are gorgeous backdrops, the real stunner is the view of Pikes Peak you get from Palmer Park. If you are looking for mountain views for couple photos or bridal party photos, this is your place! 
2. Downtown Colorado Springs
For the more trendy photos, downtown Colorado Springs is a great go-to. There are walls of exposed brick, amazing paintings and sculptures. Not to mention, using the streets and curbs can create more eclectic and urban photos!
3. Otero Park
Otero Park is nestled in the middle of a quiet neighborhood. The park provides lots of greenery and open space if you are looking for photos with a far backdrop of the mountains. If you would like to be nestled in the mountains, this is not for you; The mountain range can be seen at a distance. 
4. Palmer Park Trailhead
Palmer Park trailhead has some really awesome rock formations. If you are the adventurous type and you still want those gorgeous mountain views, I recommend checking this place out!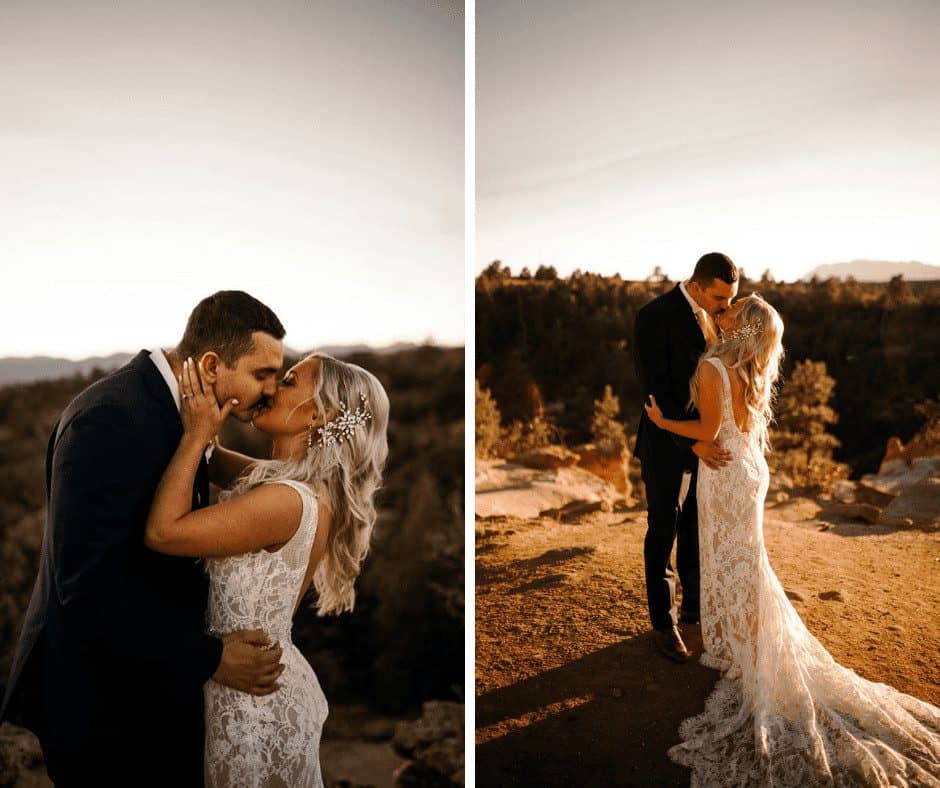 Photography by Dusty Rose Photo Co.
5. Memorial Park
Don't let the kid's playground and skate park deter you, there are some gorgeous photo locations here! Memorial Park has a stunning lake with a background view of the mountains. While you are there, feel free to jump on one of the slides at the playground for fun! 
If you are looking to get those "WOW" factor photos, you may have to travel a little bit further out of your way. If you are a Creekside Bride and end up choosing one of these locations, we recommend extending your cocktail hour to allow for travel time. These locations fall into the 15-25 min range. 
1. Garden of the Gods
Garden of the Gods is famous for its Red Rocks and giant Rock Formations. When leaving the park, there is also a small lookout area that can get a view of the mountain range behind it. It is the best of both worlds; famous red rocks and mountains! 
2. Fox Run Park 
Fox Run has some gorgeous trees all around. If you are looking for true nature photos amongst the pine trees, look no further! There is also a small pond with a water feature and a Gazebo overlooking the water. 
3. Red Rocks Open Space
Another option if you are looking for the classic red rocks and a view of Pikes Peak. One of the main differences is going to be the pond in the middle of the park. If you are looking for variety in your photos, Red Rocks Open Space has got you covered with red rocks, trees, water, and a mountain view. If your photos are in the fall, Red Rocks Open Space gets props for gorgeous, colorful trees!