Events and Wedding Venues Near Monument CO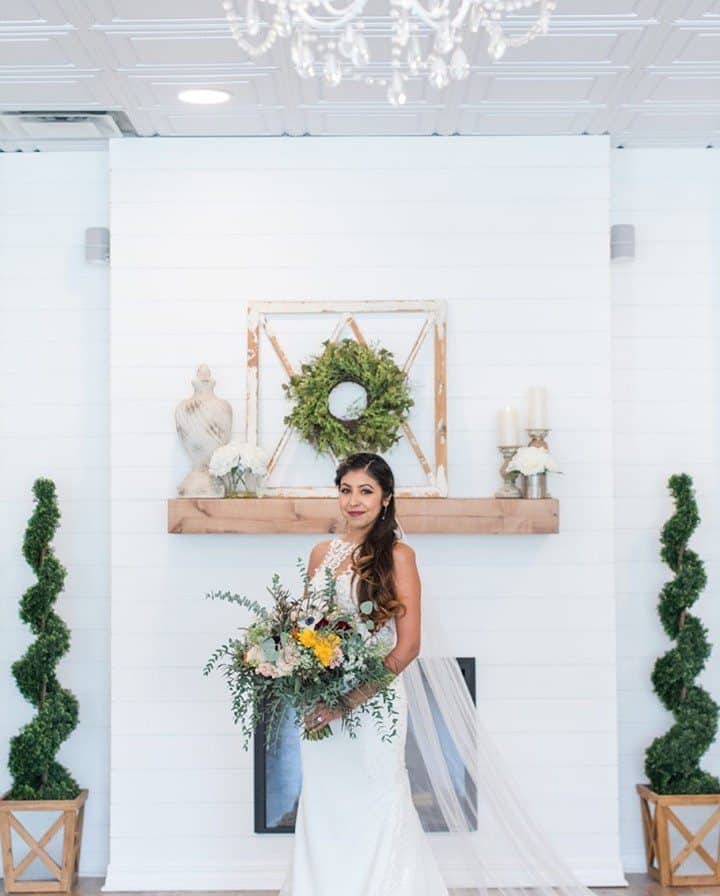 Discover the epitome of romance and enchantment at breathtaking wedding venues in Monument, CO. Nestled amidst the stunning landscapes and natural beauty of Colorado, these venues offer the perfect backdrop for your special day. From elegant country clubs to rustic barns and charming gardens, Monument provides an idyllic setting to exchange vows and create lifelong memories. Let the majestic surroundings and exceptional facilities of these wedding venues in Monument, CO, set the stage for an unforgettable celebration of love.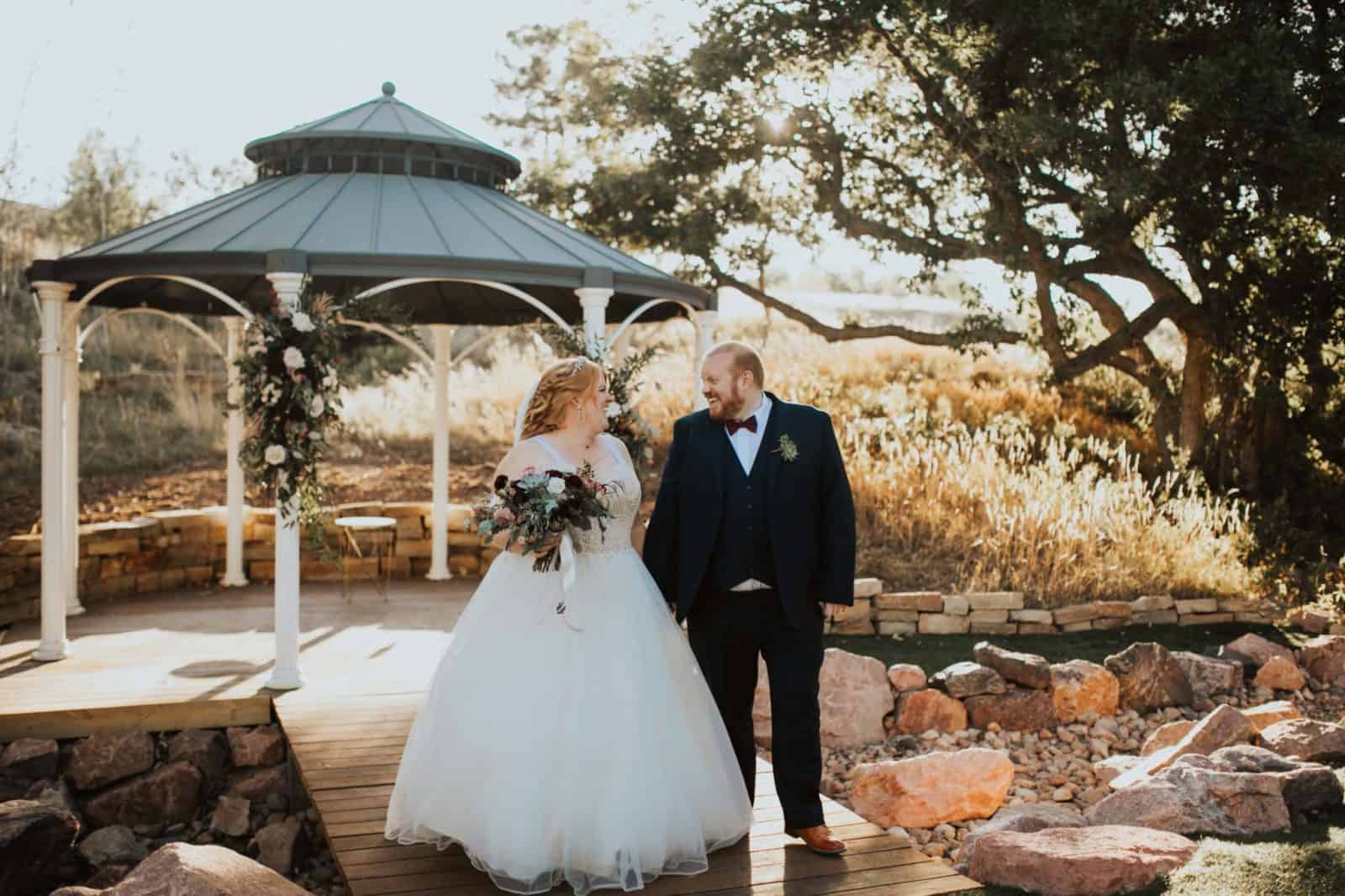 1. Creekside Event Center
Address: 5515 Palmer Park Blvd, Colorado Springs, CO 80915
Discover the ideal wedding venue in Colorado Springs – Creekside Event Center. With eight distinctive indoor and outdoor spaces, our venue can accommodate up to 300 guests. Our comprehensive All-Inclusive Packages and our team of wedding professionals will ensure a seamless and enjoyable planning process for everyone involved.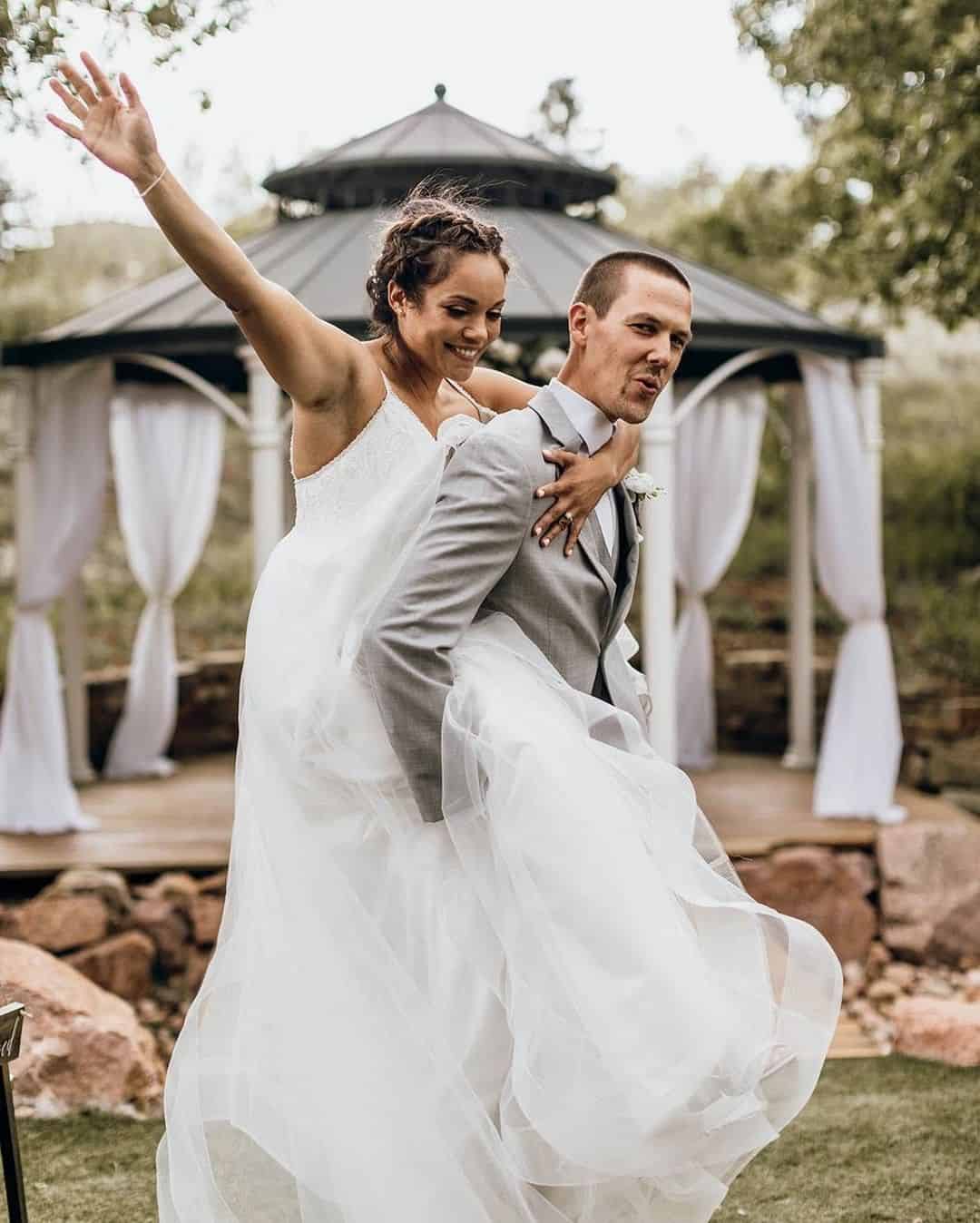 All-Inclusive Weddings in Colorado Springs
Our All-Inclusive Packages are designed to provide exceptional value at an affordable price, making your wedding planning experience stress-free. At Creekside, we only require a 10% deposit to reserve your desired date. Our modern online planning process is perfect for busy professionals, military personnel, and out-of-state brides and grooms.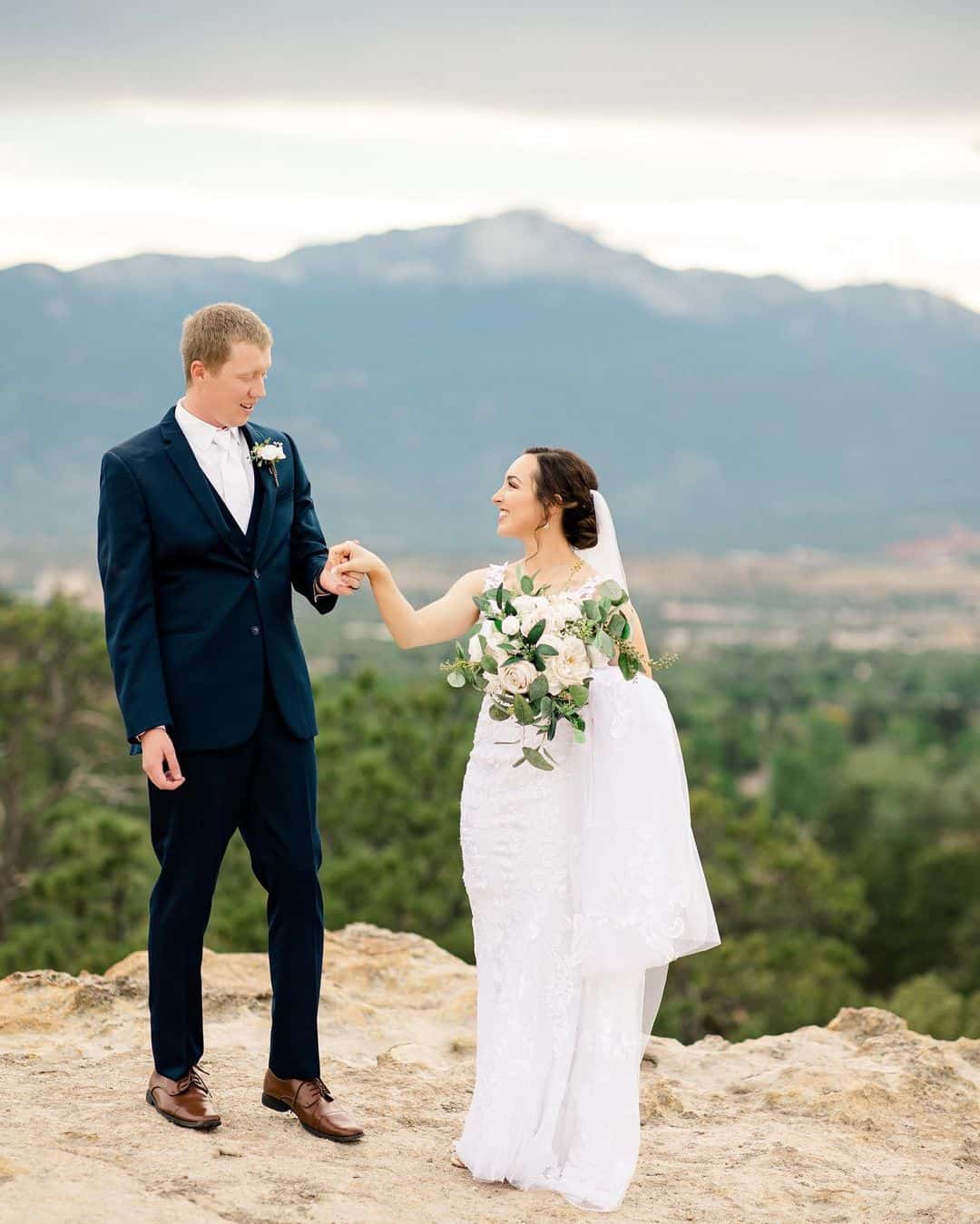 Premium All-Inclusive Wedding Package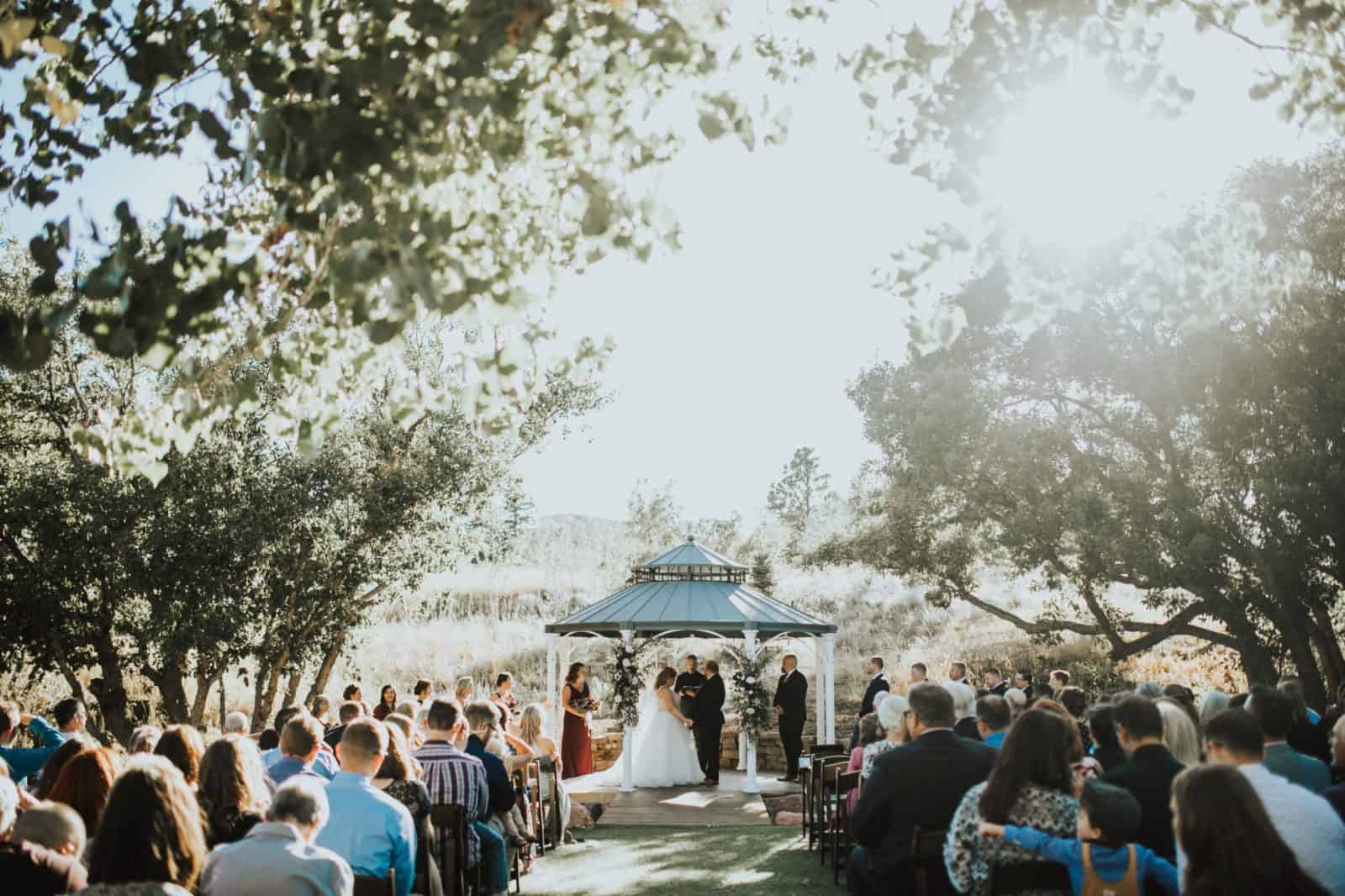 | | |
| --- | --- |
| Package Inclusions | |
| Venue Access | 10 hours |
| Weather Backup | Indoor option available |
| Ceremony Locations | Indoor and outdoor options |
| Scenic Photo Opportunities | 8-acre picturesque property |
| Tables | Farmhouse or round tables |
| Tablecloths | Black or white |
| Chairs | Crossback or dark wooden folding chairs |
| Additional Furniture | Cocktail tables, console tables, wine barrels, wooden arches, and crosses |
| Setup and Teardown | Handled by the dedicated team |
| Wedding Coordination Services | Included |
| Planning Assistance | Included |
| Bridal Suite and Groom's Lounge | Access provided |
| Decorative Elements | Bistro lights, chandeliers, uplighting, tent draping, and dance floor lighting |
| Bar Service | Soft bar with cash bar for cocktails |
| Appetizers | Choice of four |
| Dinner Buffet | Gourmet three-entrée with carving station option |
| Cake | Two-tiered cake by Sugarplum Cake Shoppe |
| DJ Services | Professional DJ for four hours |
| Cocktail Hour Music | Included |
| A/V Equipment | Provided for the ceremony |
| China, Glassware, Flatware, and Cloth Napkins | Extensive selection |
| Floral Centerpieces | Upgraded table centerpieces |
| Ceremony Decor | Choice of cascading greenery or white floral |
| Bridal Bouquet | Custom bouquet |
| On-Trend Decor | 10 pieces included |
| Rehearsal | One-hour with a coordinator |
| Patio Furniture | Available |
| Lawn Games | Available |
| Parking | Complimentary |
| Venue Insurance | Included |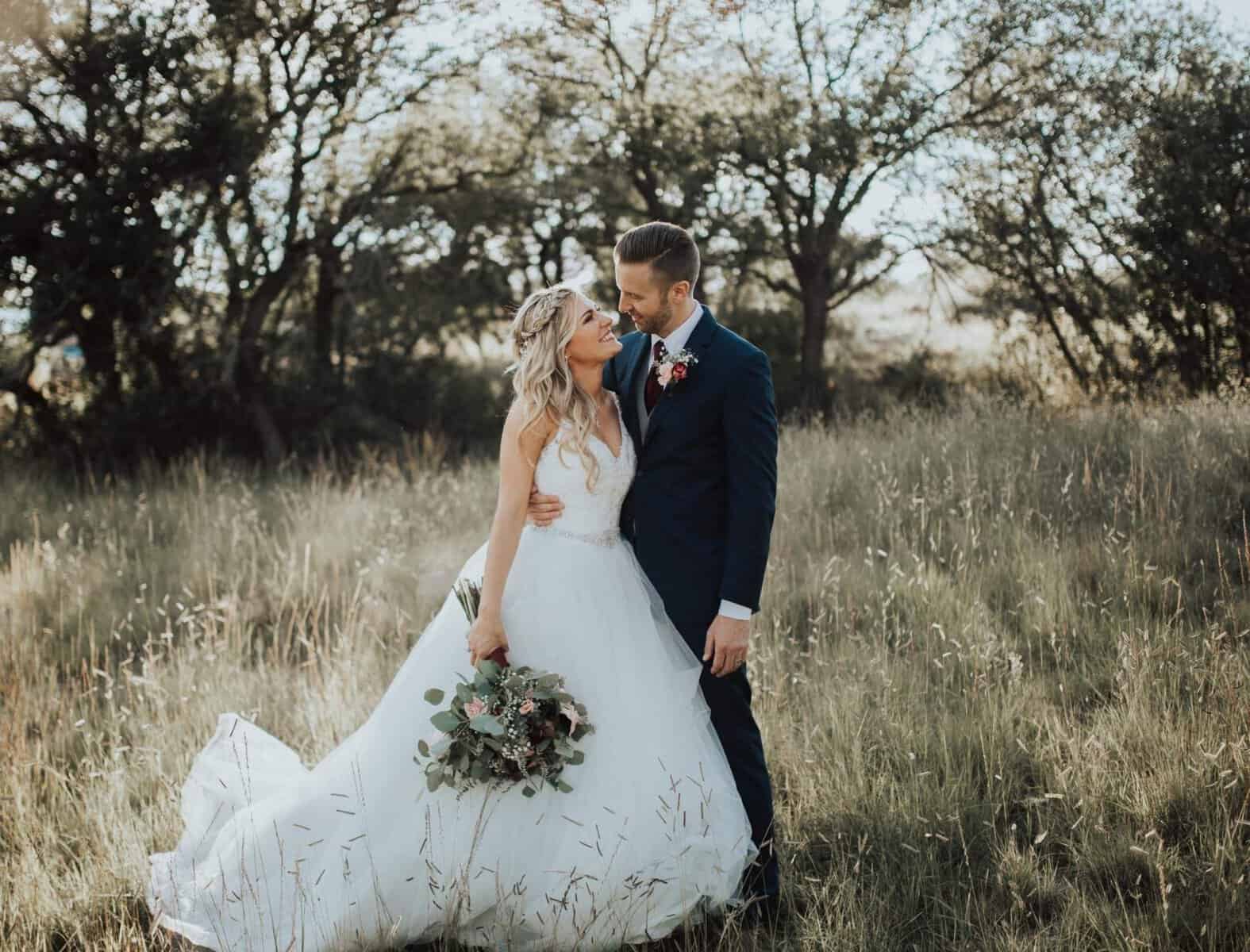 Premium Add-On Options:
Bar Upgrades
Additional DJ/MC Hours
Specialty Draping
Outdoor Heaters and Fire Pits
Additional Hours
Projection Services
Late Night Bites
Social Photo Booth with Props
Pre-Ceremony Drinks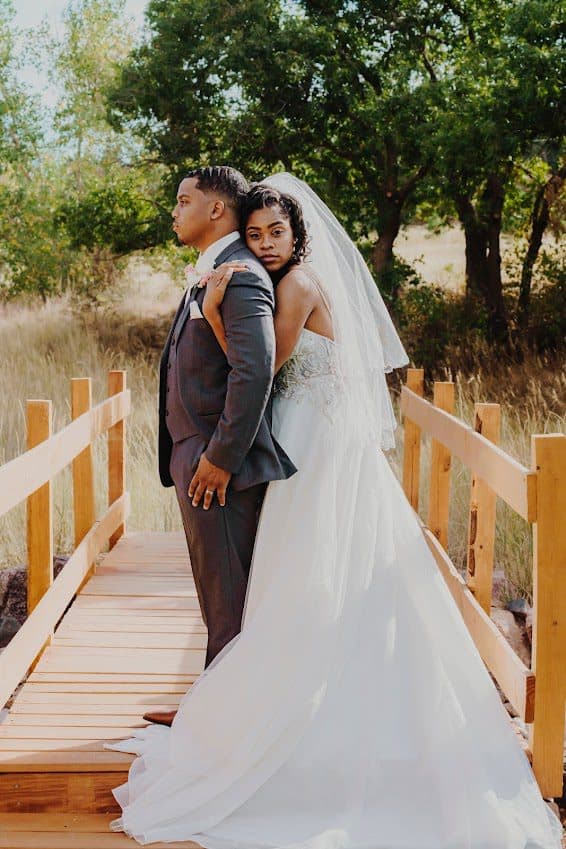 Diamond All-Inclusive Wedding Package
Upgrade to our Diamond package and enjoy all the benefits of our Premium package, with some additional exclusive offerings. You'll receive unlimited pre-ceremony drinks, three hours of consecutive hosted house bar service, a choice of three appetizers, a late-night bite bar, and four consecutive hours of social photo booth services. Additionally, you'll have the option to choose one of the following exclusive experiences:
Mountain View Dress Shopping Experience Option or Full Press Option Offered by Something New Boutique or
$500 Flintwood Floral Credit
Diamond Add-On Options:
Bar Upgrades
Additional DJ/MC Hours
Specialty Draping
Outdoor Heaters and Fire Pits
Additional Hours
Projection Services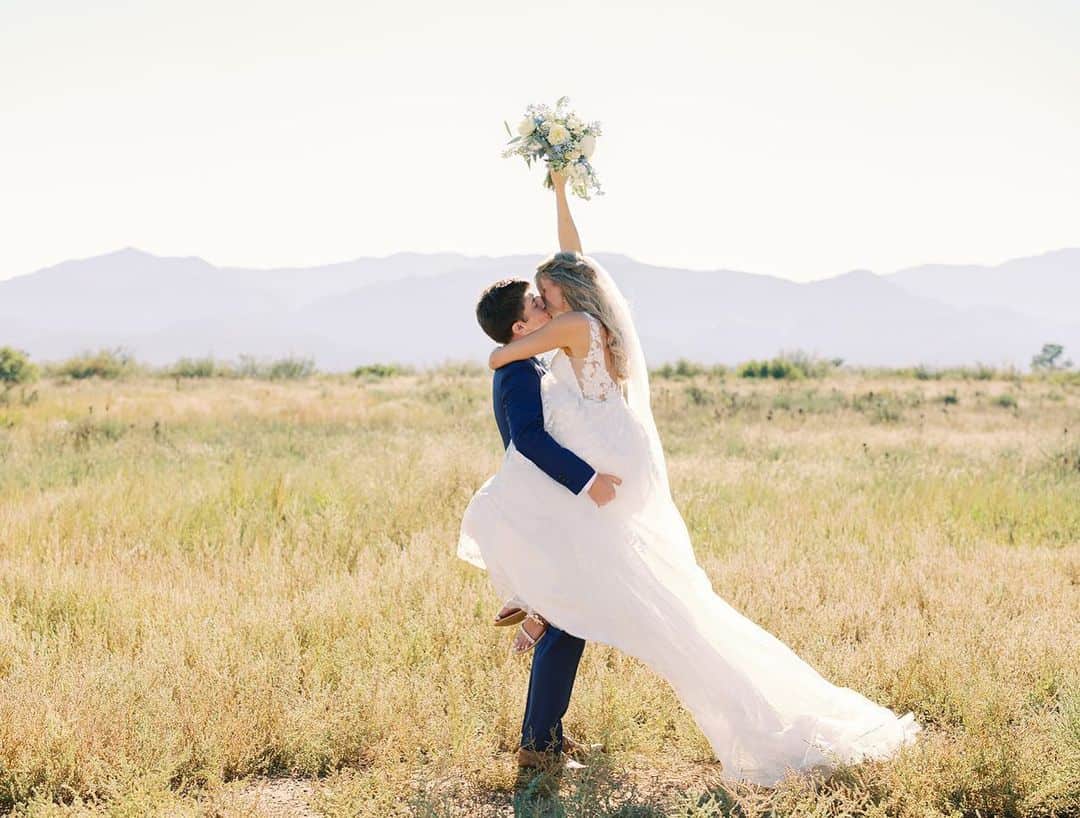 2023-2025 Pricing Details:
Please note that the following pricing is subject to change. For accurate and up-to-date pricing, please refer to our Pricing page.
Premium:
Monday to Thursday: $126/person
Friday & Sunday: $136/person
Saturday: $146/person
Minimum guest count: 60 (Mon-Wed), 80 (Thu, Fri, Sun), 100 (Saturday)
$10 off per person from November to April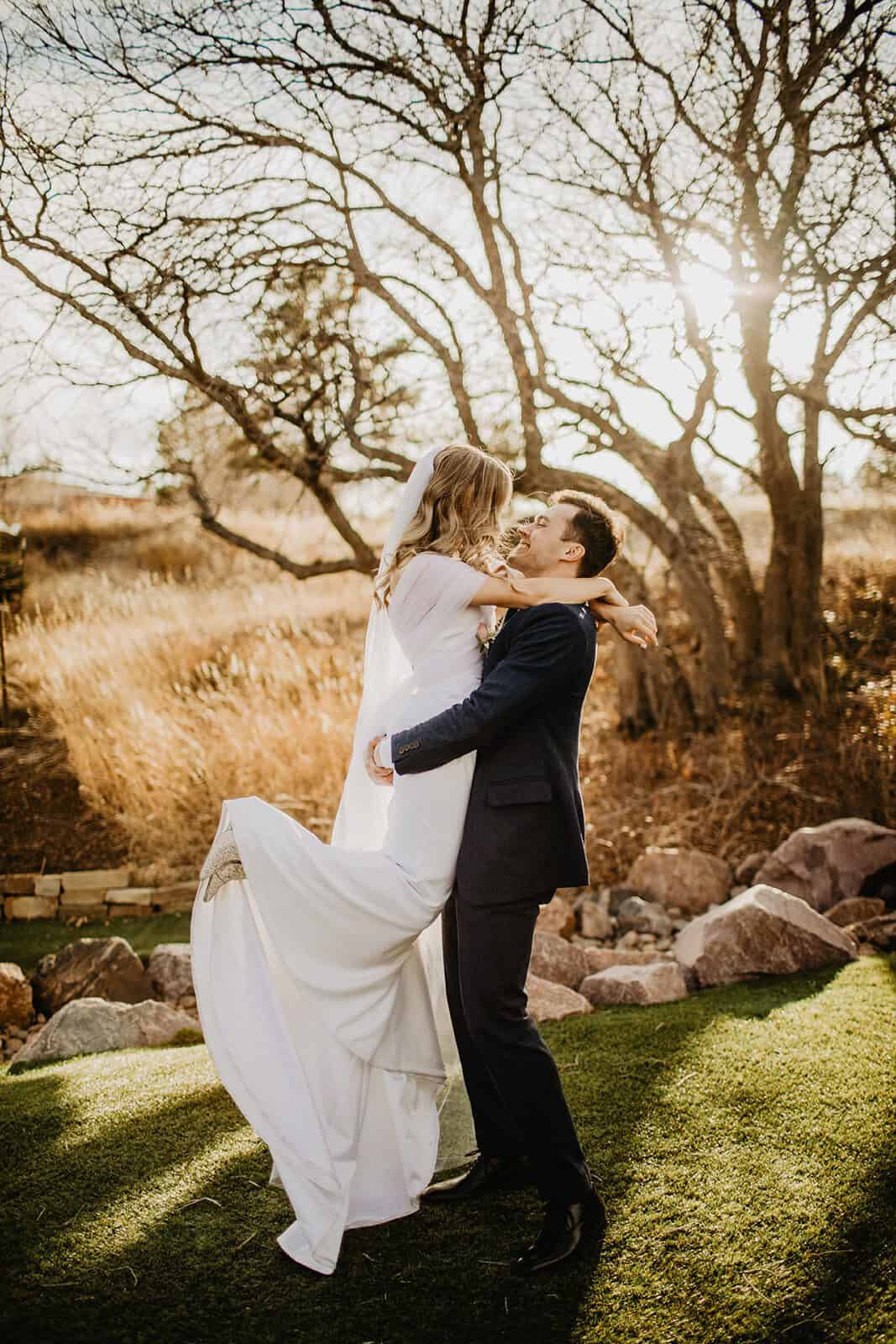 Diamond:
Monday to Thursday: $156/person
Friday & Sunday: $166/person
Saturday: $176/person
Minimum guest count: 60 (Mon-Wed), 80 (Thu, Fri, Sun), 100 (Saturday)
$10 off per person from November to April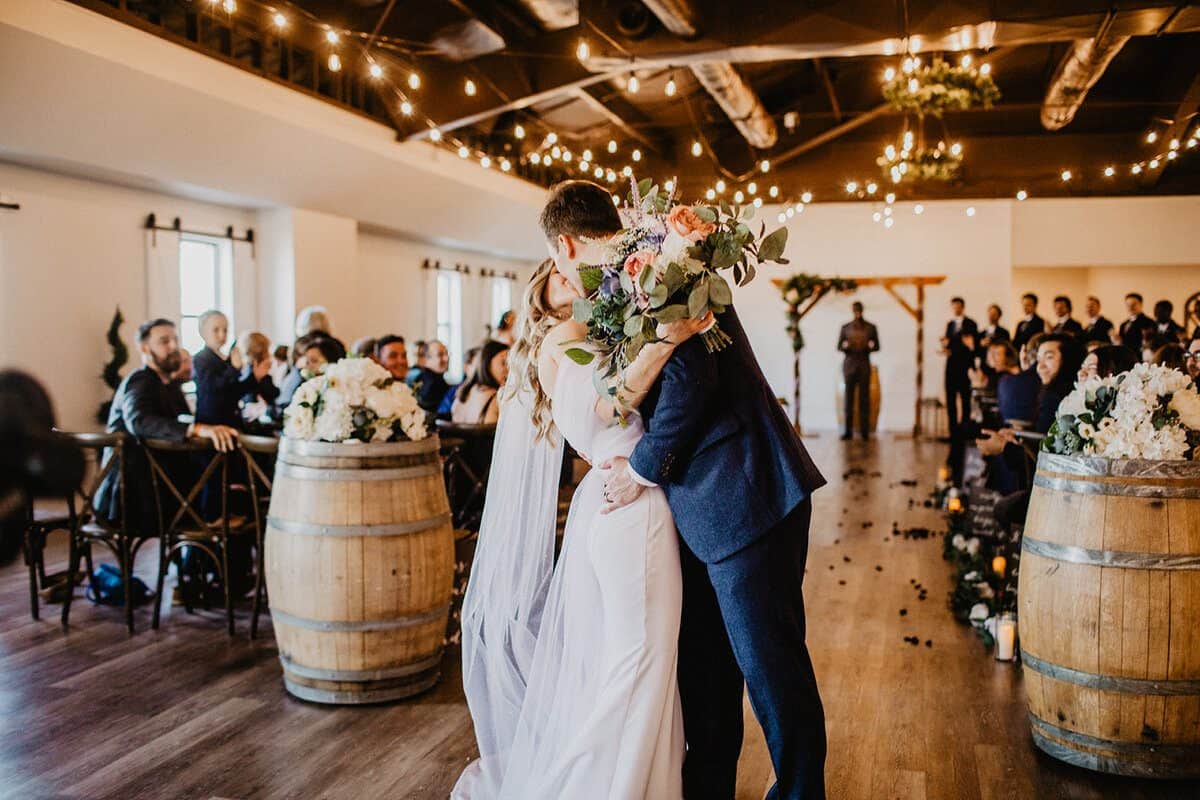 Frequently Asked Questions (FAQs):
Q: Is there a bridal suite and groom's lounge available? A: Creekside Event Center provides access to a bridal suite and groom's lounge for the wedding party to prepare and relax before the ceremony.
Q: Are there on-site parking facilities for guests? A: Yes, complimentary parking is available for all guests attending the wedding at Creekside Event Center.
Q: Can I bring my own vendors or do I have to use the venue-provided ones?

A: Creekside Event Center has a preferred vendors list, but outside vendors are also welcome. The venue provides flexibility for couples to choose their preferred vendors for various aspects of the wedding, including catering, photography, and florals.

Q: Can I customize the wedding package to suit my preferences?

A: Creekside Event Center offers the flexibility to customize wedding packages to meet your specific preferences and requirements. You can work with their wedding professionals to tailor the package and add-on options to create your dream wedding.

Q: Is there a backup plan for outdoor ceremonies in bad weather?

A: Creekside Event Center has indoor spaces as a weather backup for outdoor ceremonies. In case of inclement weather, the ceremony can be seamlessly moved indoors to ensure a smooth and beautiful event.
Please note that the above information is accurate as of my knowledge cutoff in September 2021. For the most up-to-date and accurate pricing details, availability, and any additional questions, it is recommended to reach out to Creekside Event Center directly through their official channels.
If you have any further questions or need assistance with anything else, feel free to ask! We'd love for you to schedule a tour or contact our team to learn more about how we can make your wedding the most memorable day of your life 🙂
2. Woodmoor Barn Community Center
Address: 1691 Woodmoor Dr, Monument, CO 80132
Preserving History
Within the charming confines of Woodmoor lies a hidden gem that sets the neighborhood apart. Enter The Barn, a living testament to the area's rich heritage. Built in 1919 and rebuilt after a devastating fire in the 1940s, this historic structure has stood the test of time and continues to captivate the community.
A Visionary Transformation
In the early 1960s, the visionary developer Steve Arnold, known as The Woodmoor Corporation, recognized the untapped potential of The Barn. What was once a working dairy barn evolved into something greater. With unwavering determination, the building was repurposed to become the cherished Community Center of Woodmoor, forever transforming the heart of the neighborhood.
Celebrating Life's Milestones at The Barn
Step into The Community Center, and you'll find a vibrant space that brings people together for all types of occasions. From joyous birthday celebrations and meaningful anniversaries to festive Christmas parties, The Barn radiates warmth and serves as a gathering place for cherished memories. It has witnessed countless weddings and receptions, where love blossoms amidst its picturesque surroundings. With Lake Woodmoor views off the back deck and multiple scenic areas around the Barn, photographers revel in the abundance of options for capturing beautiful moments.
Preserving Heritage, Embracing the Future: Woodmoor's Everlasting Legacy
The Community Center and The Barn embody the spirit of Woodmoor—a harmonious blend of history and contemporary life. It is a place where generations come together, stories unfold, and the essence of community is perpetuated. With its timeless appeal and unwavering presence, The Barn stands as a testament to Woodmoor's commitment to preserving its heritage while embracing the future. Within these walls, Woodmoor thrives, forever enriched by the enduring legacy of its beloved Community Center.
3. The Club at Flying Horse
Address: 1880 Weiskopf Point, Colorado Springs, CO 80921
A Scenic Escape: Discover the Elegance of The Club at Flying Horse
Nestled on the northern edge of Colorado Springs, Colorado, The Club at Flying Horse presents an exquisite golf and country club, exuding timeless elegance and captivating beauty. Surrounded by breathtaking views of the Rocky Mountains, Pikes Peak, and their picturesque golf course, this enchanting venue sets the stage for unforgettable weddings.
A Culinary Journey: Crafting Bold and Beautiful Menus
At The Club at Flying Horse, their passionate culinary team strives to create a wedding experience that is bold, beautiful, and original. From the moment you step foot in their venue, their talented staff will guide you in selecting the perfect menu, customized to accommodate your esteemed guests' unique tastes and preferences.
Multiple Event Spaces: A Haven of Tuscan Design and Modern Charm
The Club at Flying Horse boasts an impressive array of event spaces meticulously designed to cater to members and non-members alike. From Tuscan-inspired settings to modern-themed spaces, this versatile venue offers a wealth of possibilities. Whether you envision an intimate gathering or a grand celebration, their remarkable facilities can accommodate your every desire.
Unforgettable Experiences: All-Inclusive Packages and Exclusive Customization
The Club at Flying Horse offers two distinct wedding experiences to cater to your preferences. With their All-Inclusive Wedding Packages, you'll enjoy a seamless planning process, making your special day a breeze. Alternatively, their Exclusive Wedding Experience allows you to customize every aspect of your wedding, ensuring that your vision becomes a reality. Reach out to them; they will gladly provide you with a comprehensive packet to guide you through the possibilities.
Facilities, Services, and Culinary Delights
With a capacity to host up to 175 guests, The Club at Flying Horse invites you to immerse yourself in the stunning vistas of the Rocky Mountains and their magnificent golf course. The Thomas Blake Ballroom and Barolo Ballroom provide the perfect backdrop for your reception, ensuring an ambiance of grandeur and sophistication.
As a full-service venue, The Club at Flying Horse aims to bring your vision to life. From staging rooms for the bridal party and groomsmen to meticulous setup and cleanup, their dedicated team will take care of every detail. They provide tables, chairs, china, linens, flatware, glassware, and ample parking to ensure a seamless experience.
Delight your guests with a culinary journey tailored to your preferences. Choose between a delectable array of hors d'oeuvres, a sumptuous buffet, or elegant plated meals. Indulge in exquisite options such as Petite Filet Mignon paired with Citrus Garlic Shrimp, Chicken Cordon Bleu, or a Grilled Pacific Cod Filet. To complement your dining experience, their customizable bar services offer packages, A la Carte options, and specialty cocktails that will enchant your guests.
Unparalleled Convenience
The Club at Flying Horse goes above and beyond to meet all your wedding weekend needs. Their multiple event spaces, accommodating anywhere from 10 to 150 people, are perfectly suited for hosting pre-wedding events such as bridal showers, rehearsal dinners, welcome receptions, and post-wedding brunches. Enhancing your stay, their on-site lodge provides 100 beautiful rooms featuring a blend of standard rooms, suites, and villas. For ultimate relaxation before your big day, indulge in their exquisite spa facilities.
Investing in Your Dream Wedding: Pricing and Packages
To ensure transparency and assist you in planning, here are the pricing details:
Event Timeline:
4:00 pm | Wedding Ceremony in the Courtyard (30 minutes)
4:30 pm | Reception / Hors d'oeuvres Station & Bar in Ballroom
6:00 pm | Guests Seated / Dinner
8:00 pm | Champagne Toast / Cake Cutting / Dancing
12:00 am | Bye!
Event Location:
Ceremony: The Courtyard
Reception: Thomas Blake Ballroom and Terraces
Event Set-Up: The Courtyard:
100 White Plastic Folding Chairs with a center aisle
6 chairs on each side of the aisle, 8 rows back
1 6-ft Table for gifts
1 6-ft Table for Ice Water Station
Thomas Blake Ballroom:
Rounds of 8-10 (depending on the final count)
Flying Horse white linen
Bar in Lobby Hallway
1 6-ft Table for DJ in an alcove
1 Half Crescent Round for Wedding Cake on a slanted wall
1 6-ft Table for guest book and guest seating chart in lobby
Thomas Blake Terrace:
Existing Patio furniture
1 6-ft Table for Hors d'oeuvres Station
Wedding Cake Cutting Service Fee: $2.50 inclusive per person (Cake cutting fee applies, professional licensed bakery required)
Plated Dinner:
Flying Horse Signature Salad (GF): Mixed greens, tomatoes, spiced pine nuts, goat cheese, creamy balsamic dressing
Petite Filet and Atlantic Salmon Fillet: Lemon risotto, peppery green beans, bearnaise sauce
Fresh Fruit Sorbet (GF): Garnished with fresh berries and mint
Includes freshly baked rolls with butter, ice water, iced tea, and coffee
Wedding Vendor Information: The Club at Flying Horse requires licensed vendors, including a day-of coordinator. They will be pleased to provide you with a list of their preferred vendors. Vendor meals will be included at an additional cost.
Room Charges (Non-Taxable):
Ballroom: $500
Courtyard: $250
Total: $750
Cake Cutting (Non-Taxable):
Per Person (x100 people): $250
Food and Beverage:
Food: $9,175
Beverage: $2,045
Total: $11,220
23% Service Charge: $2,580
Rental Charges:
Flying Horse Dance Floor: $250
100 Plastic Chairs: $350
Chair Set-Up Fee: $50
Total: $650
Retail Sales Fee (RSF): $377.08 8.2% Sales Tax: $1,215.87
Total: $16,956.05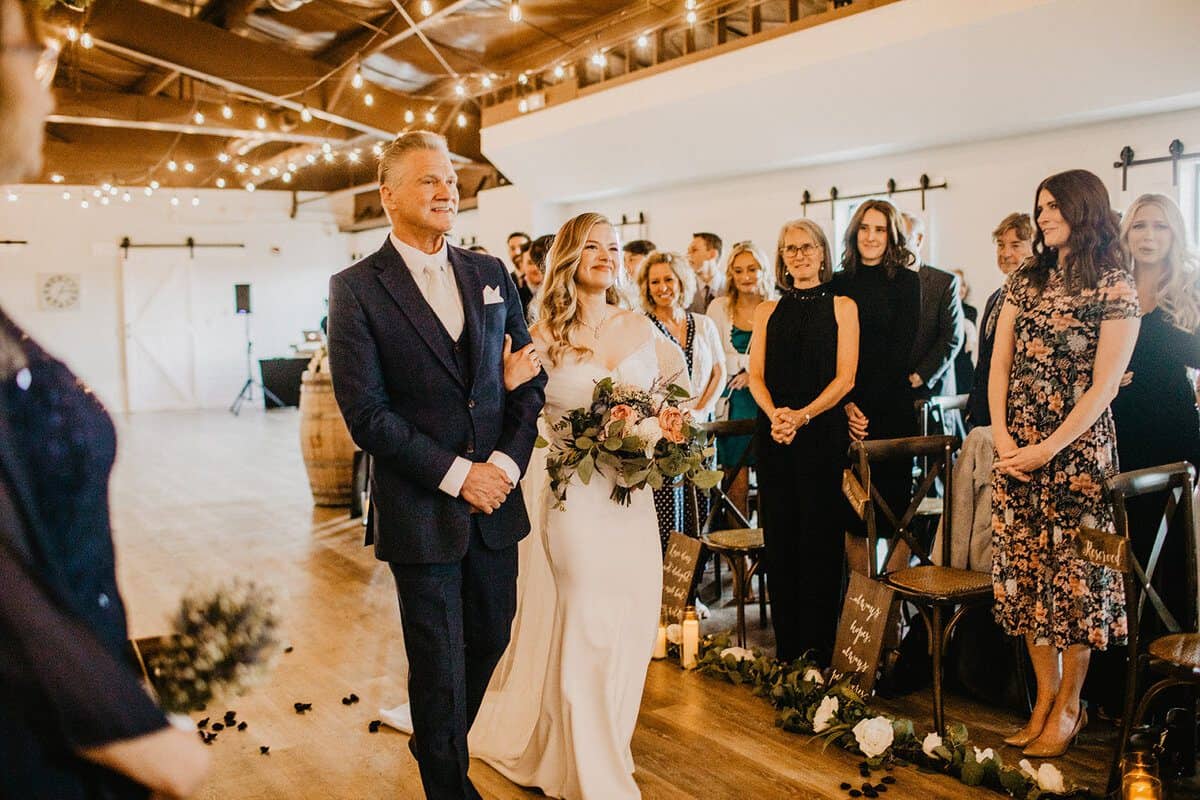 FAQs About Wedding Venues in Monument Colorado
Thanks for reading our top wedding venues in Monument CO! Below are some FAQs you might have about planning your wedding in Monument, Colorado Springs, or El Paso County.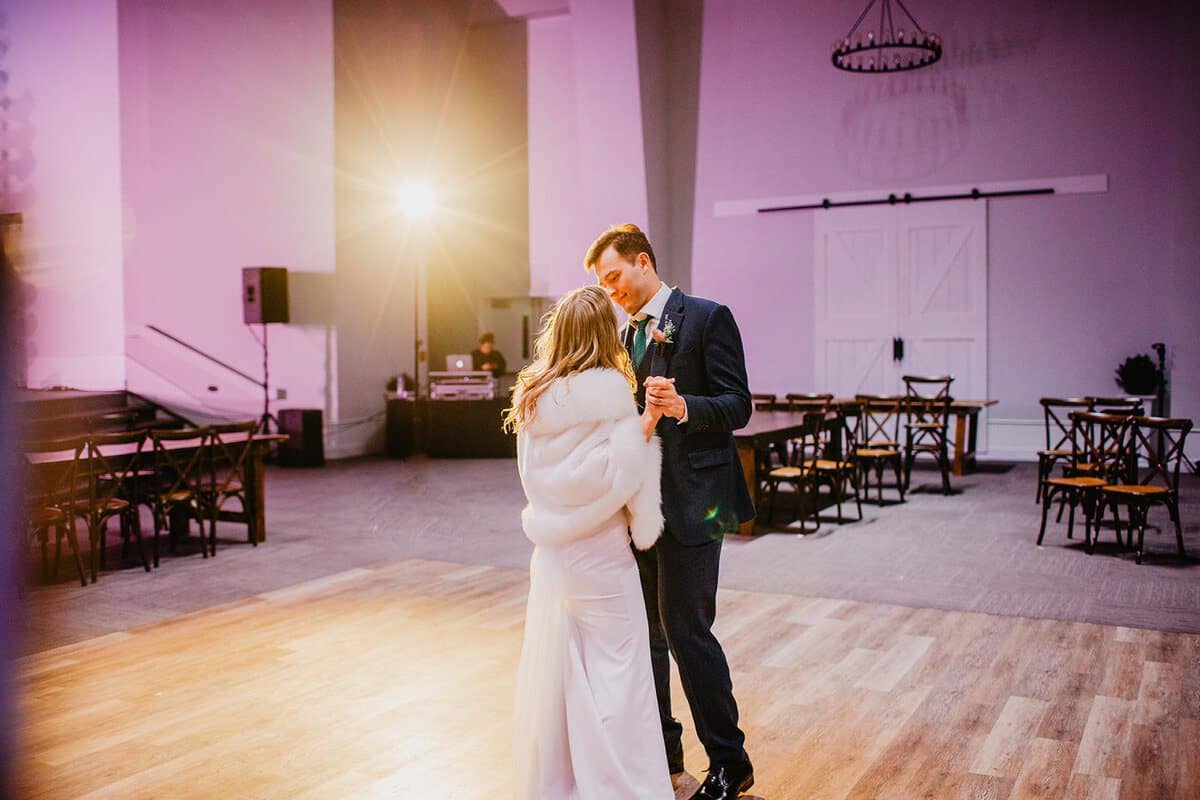 What are the top wedding venues in Monument CO?
The top wedding venues in Monument CO are Creekside Event Center, Hearth House, Secret Window, The Church at Woodmoor, Spruce Mountain Ranch, and The Club at Flying Horse.
Hearth House Venue: This cozy venue offers a beautiful mountain view and combines rustic charm with modern decor, creating an elegant setting for weddings.
Secret Window: With stunning indoor and outdoor spaces and breathtaking mountain views, Secret Window provides a romantic atmosphere for your special day. It also features a private outdoor garden area.
The Church at Woodmoor: This intimate woodland venue offers a serene and picturesque setting for your wedding. Surrounded by nature, it provides a tranquil atmosphere for exchanging vows.
Spruce Mountain Ranch: Located near Monument, this venue offers a combination of rustic charm and modern amenities. It features breathtaking views of the Rocky Mountains and a variety of indoor and outdoor spaces to suit your wedding style.
The Club at Flying Horse: Situated in a picturesque setting, this venue offers both indoor and outdoor ceremony and reception spaces. It boasts stunning views of the mountains and elegant facilities for a memorable wedding celebration.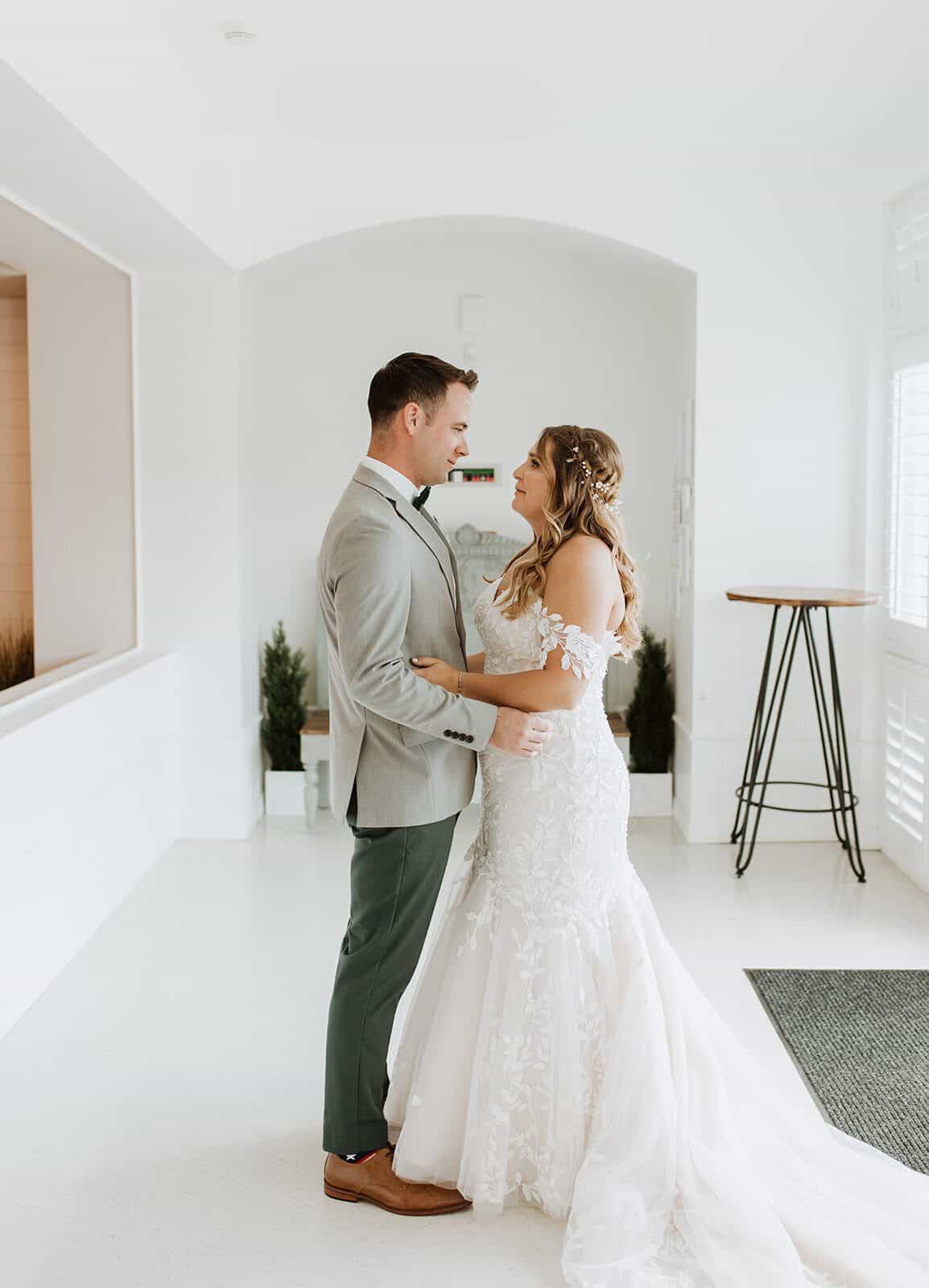 How can I find more information about Monument, CO wedding venues?
According to The Knot, there are 217 wedding venues sorted by various wedding-related categories in Monument, CO. These categories include reception venues, wedding photographers, videographers, bridal salons, beauty services, DJs, wedding bands, florists, wedding planners, and more. [1]
Eventective provides a list of 180 wedding venues near Monument, CO. These venues offer a range of options such as indoor/outdoor spaces, banquet rooms, mountain-style settings, sports facilities, historic inns, restaurants/bars with flexible menus, and conference/meeting centers. [2]
WeddingWire mentions several top wedding venues in Monument, CO, including Hearth House Venue, Secret Window, The Church at Woodmoor, Spruce Mountain Ranch, The Club at Flying Horse, and more. These venues offer beautiful mountain views, rustic yet modern decor, woodland settings, and various amenities. [3]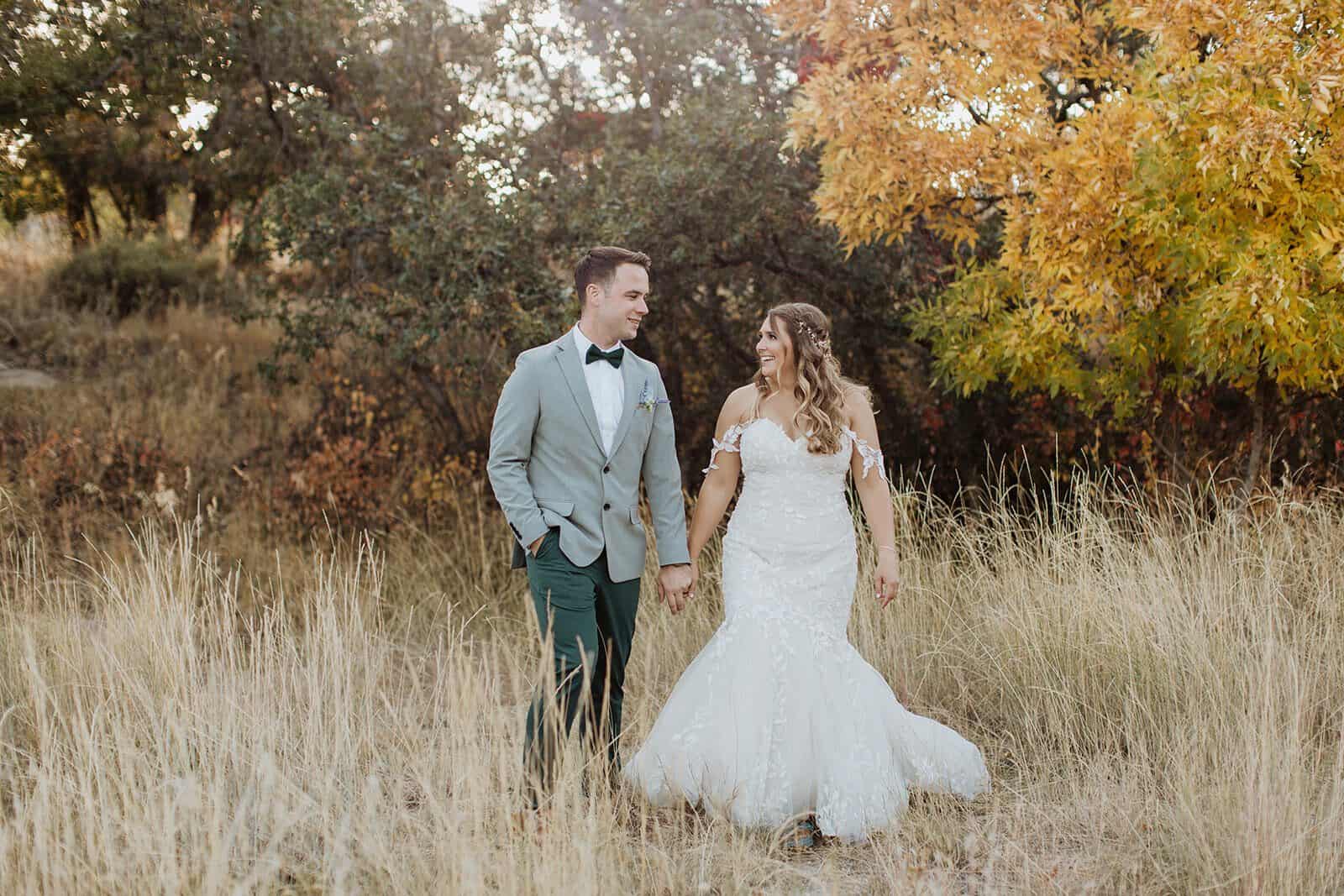 Are there any outdoor wedding venues in Monument, CO?
Monument, CO is a sought-after destination for couples seeking a picturesque backdrop for their wedding reception. This charming town, located just 20 miles north of Colorado Springs and within walking distance of Monument Lake, offers a range of outdoor wedding venues that perfectly complement the stunning mountain scenery. Among the top outdoor wedding venues in Monument is the Club at Flying Horse, which boasts a beautifully manicured lawn and stunning views of the Front Range. Another popular venue is Hillside Gardens and Event Center, which features a lush garden setting, a waterfall, and a koi pond. Additionally, the Sanctuary Golf Course offers a scenic backdrop of the Rocky Mountains, while Spruce Mountain Ranch provides a rustic and elegant setting for a memorable celebration. While the weather can be a consideration for outdoor weddings in Monument, the availability of indoor options and the breathtaking scenery make it a popular choice for couples looking for an unforgettable experience.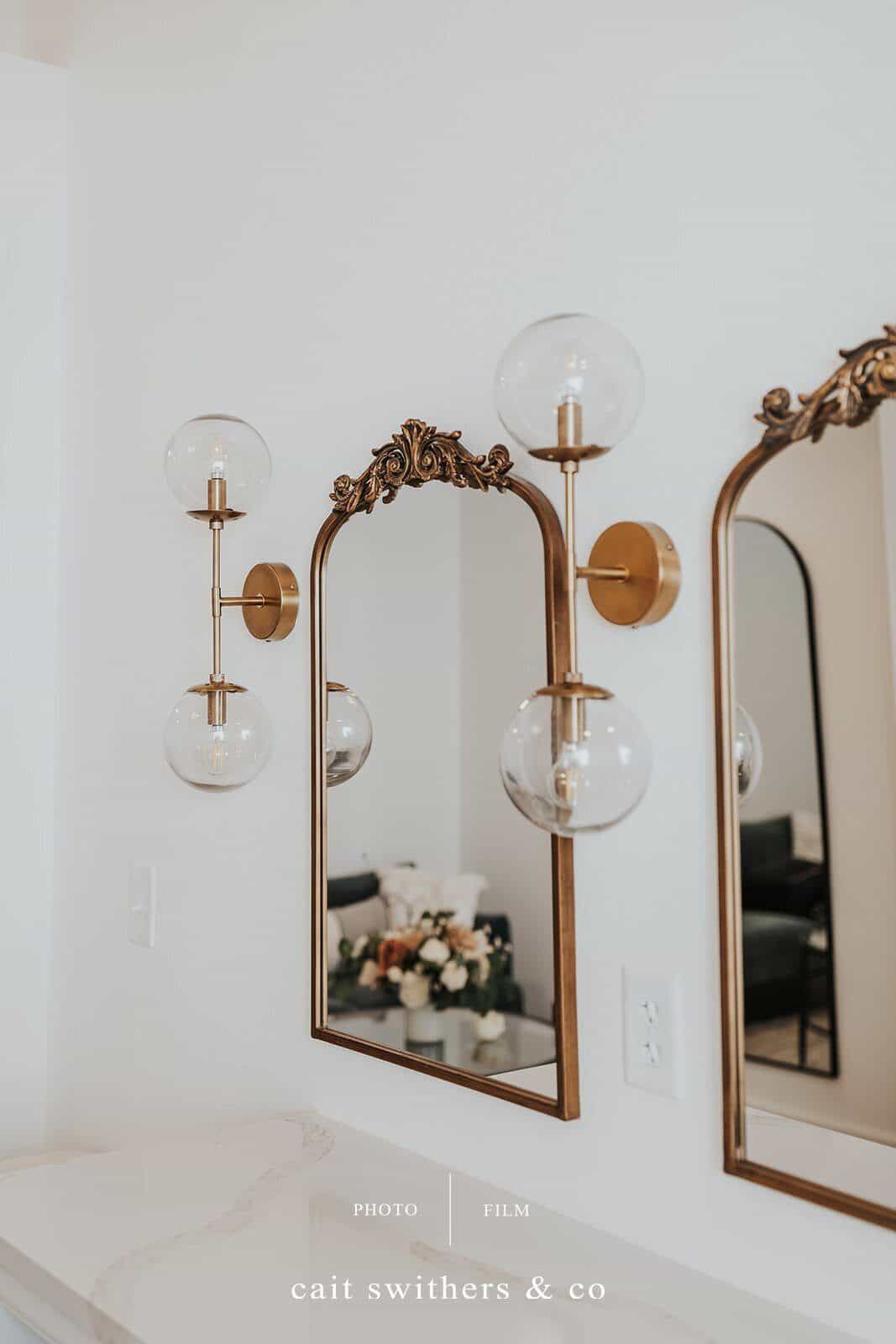 Are there any hotels in Monument CO?
No, but there are hotels nearby in Colorado Springs and Manitou Springs.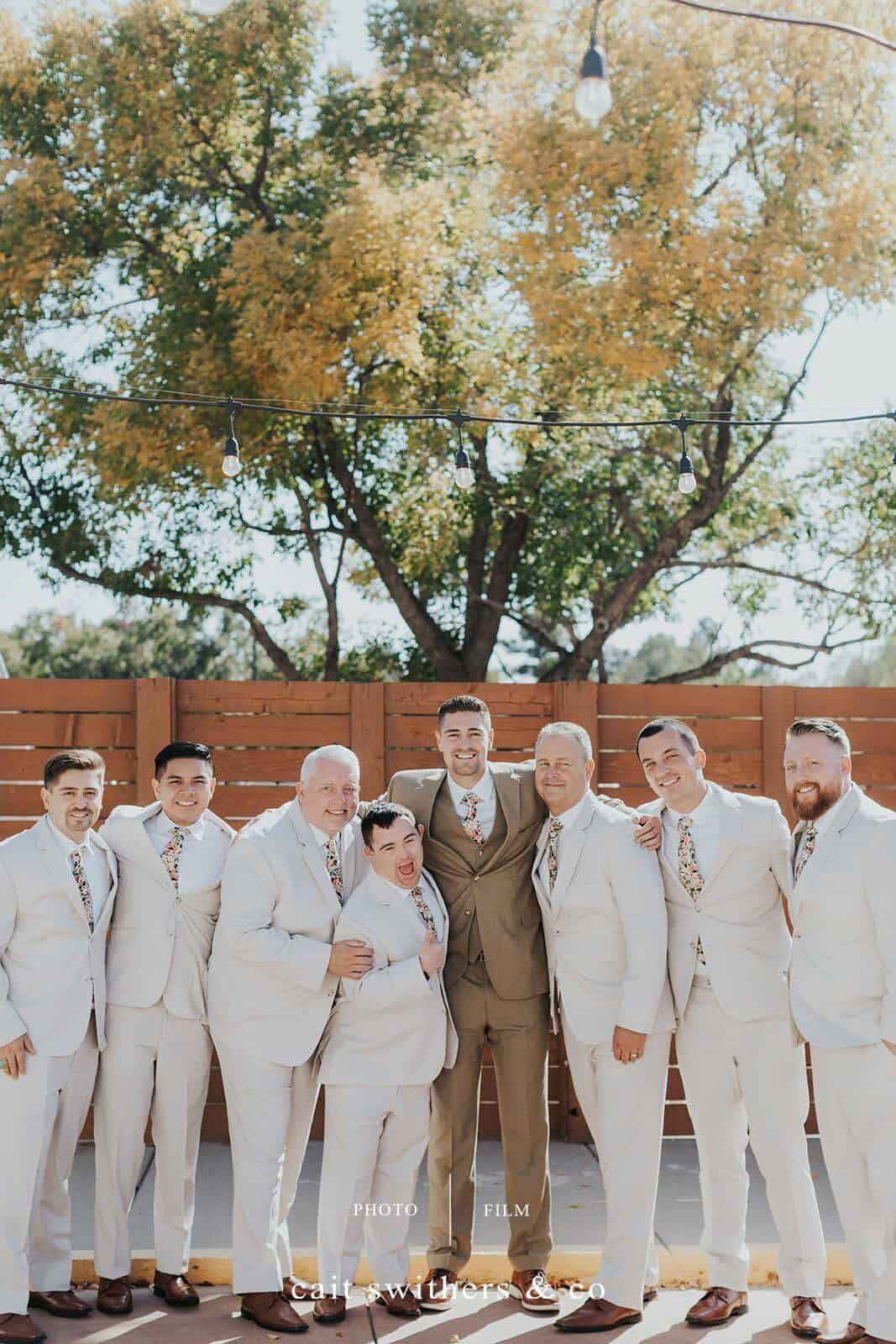 What is the best way to find reception venues in Monument, CO?
You can also search in these nearby towns/areas:
City/Town/Community
Colorado Springs
Fountain
Manitou Springs
Monument
Palmer Lake
Calhan
Green Mountain Falls
Ramah
Ellicott
Peyton
Yoder
Cascade-Chipita Park
Security-Widefield
Cimarron Hills
Black Forest
Woodmoor
Stratmoor
Falcon
Rock Creek Park
Rush
Schriever Air Force Base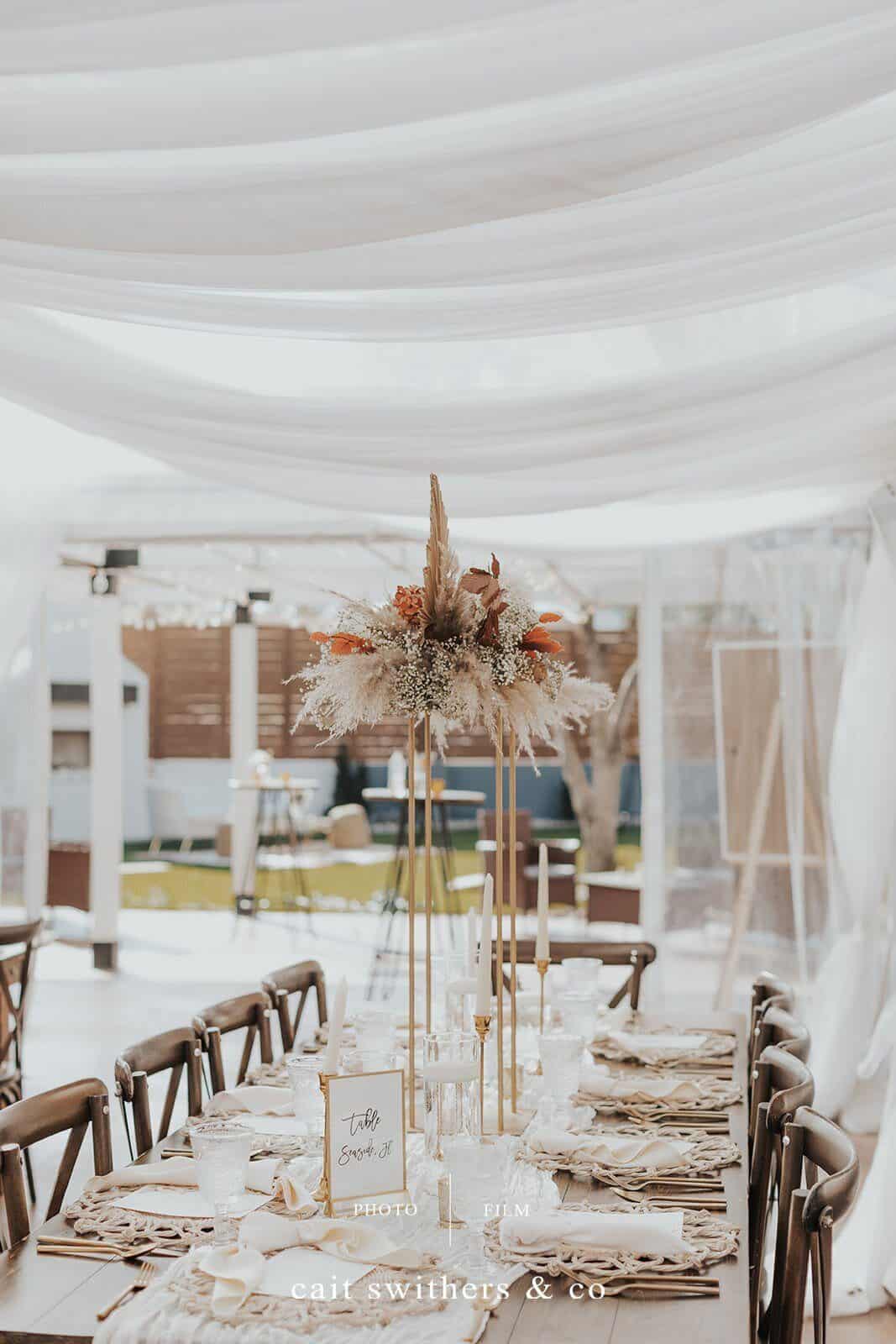 What kind of backdrop do Monument, CO wedding venues offer?
Monument, Colorado offers beautiful mountain views for visitors to enjoy. The town is situated at the base of the Rampart Range and shares borders with Pike National Forest, Colorado Springs, the United States Air Force Academy, Bald Mountain, True Mountain, Spruce Mountain, and Black Forest [4]. Here are some notable mountain views and trails in the area:
Monument Rock Trail and Monument Creek Trail 715: These trails provide scenic views and are popular for hiking, allowing visitors to immerse themselves in the natural beauty of the surroundings [1].
Mount Herman Trail: This trail offers a moderate hike with stunning panoramic views. It is known for its picturesque landscapes and is a great option for outdoor enthusiasts [2].
Rim Rock Drive: Located nearby, Rim Rock Drive stretches for 20 miles and offers breathtaking scenic vistas. It features viewing areas and trails, providing ample opportunities to enjoy the mountainous landscapes [3].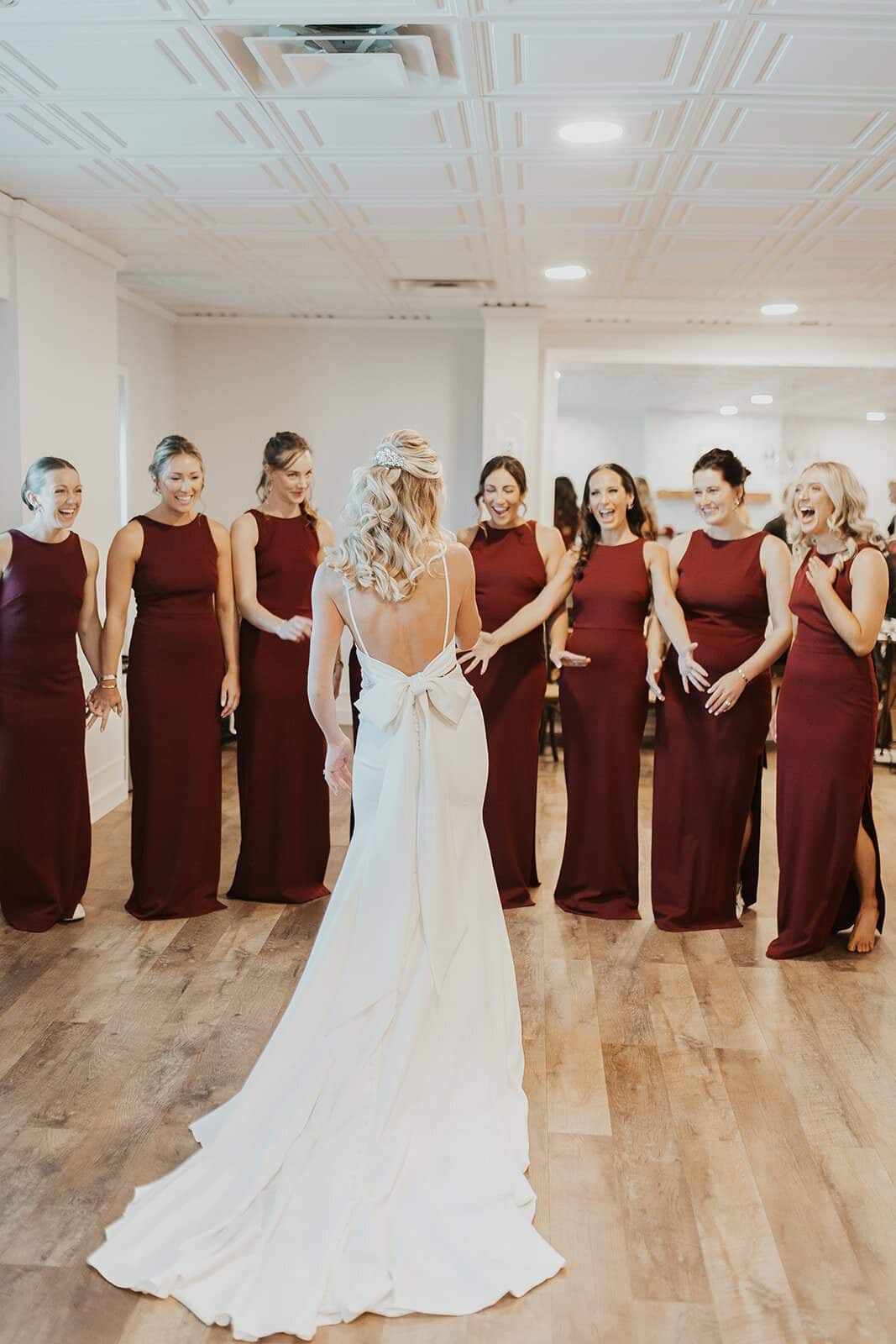 What other attractions and landmarks are near Monument CO?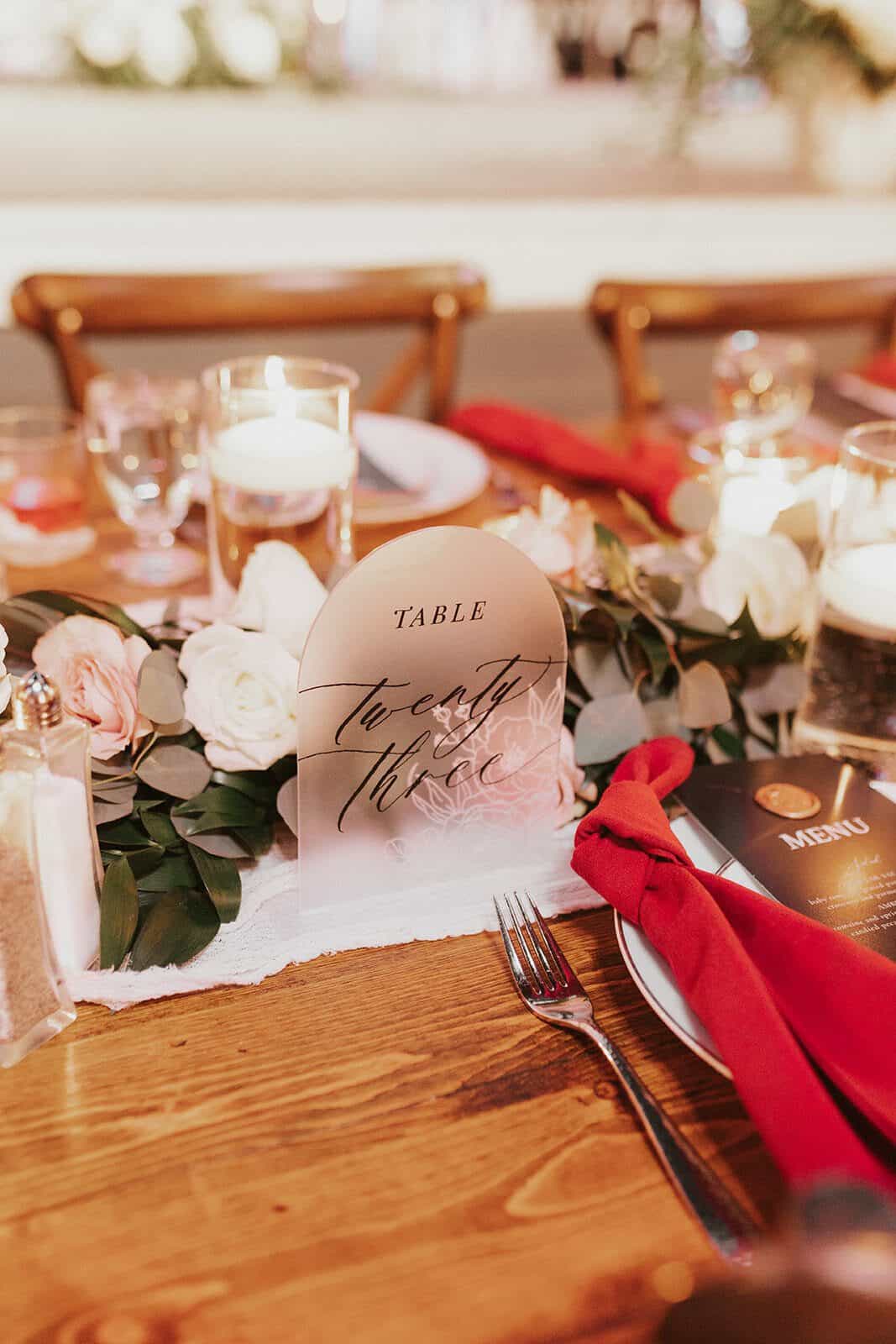 Good luck finding your perfect wedding venue!
Create a fairy tale wedding at one of the breathtaking venues in Monument, CO. Surrounded by the awe-inspiring beauty of nature, you and your loved ones will be swept away by the magical atmosphere and unforgettable charm. Whether you envision an intimate gathering or a grand celebration, these venues offer a range of options to suit your preferences. With their exceptional services, breathtaking backdrops, and attention to detail, these wedding venues in Monument, CO, will ensure that your special day is nothing short of extraordinary. Begin your journey towards a lifetime of happiness and cherished memories at these remarkable venues in Monument, CO.4 Breathtaking Wedding Venues in Monument CO